ZX Compact Flash interface
8-bit, full capacity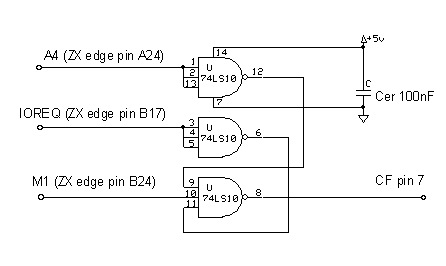 On schematic is chip select logic. It is practically same as by 8-bit simple IDE interface. But main advance here is that we work with CF card in memory mode, where data transfer is 8-bit wide, so no capacity loss. Full capacity of CF card is available, while interface remains simple. On table below are other necessary connections between Speccy edge connector and CF card.

ZX pin,
function

B6 (D0)

B7 (D1)

B8 (D2)

B11 (D3)

B12 (D4)

B10 (D5)

B9 (D6)

B3 (D7)

A11 (A2)

A22 (A6)

A21 (A7)

B18 (/RD)

B19 (/WR)

CF pin

21

22

23

2

3

4

5

6

20 (A0)

19 (A1)

18 (A2)

9

36

ZX pin,
function
A6 GND

A6 GND
A6 GND
A6 GND
A6 GND
A6 GND
A7 GND
A7 GND
A7 GND
A7 GND
A7 GND
A7 GND


CF pin

1

8

10

11

12

14

15

16

17

39

41

50



ZX pin,
function
A3 VCC

A3 VCC
A3 VCC
A3 VCC
A3 VCC
A3 VCC














CF pin
13

32

34

35

38

44